Victoria McCormick has been busy. The 72-year-old homeowner has gone DIY crazy. And she's taking the journey with our Daich Coatings products!
After renovating her kitchen and master bathroom, Victoria agreed to help neighbors out with countertops in their home. Every project involves SpreadStone Countertop Refinishing Kits.
"I had no experience with this product or help from anyone," says McCormick, a resident of Anderson, South Carolina. "I find the product easy to apply. I used the Volcanic Black in my bathroom and the Oyster in my kitchen. At the same time, I painted cabinets to give a face lift to several rooms in my home."
Victoria truly hated her shiny green Verde laminate kitchen countertops. She decided to check DIY options on YouTube instead of replacing the eyesore countertops.
After viewing videos online, Victoria decided to take the plunge and redo her kitchen and bathroom by herself.
"I liked everything I saw on the Daich Coatings site," says Victoria. "I liked the product colors, ease of application, and could not beat the low cost."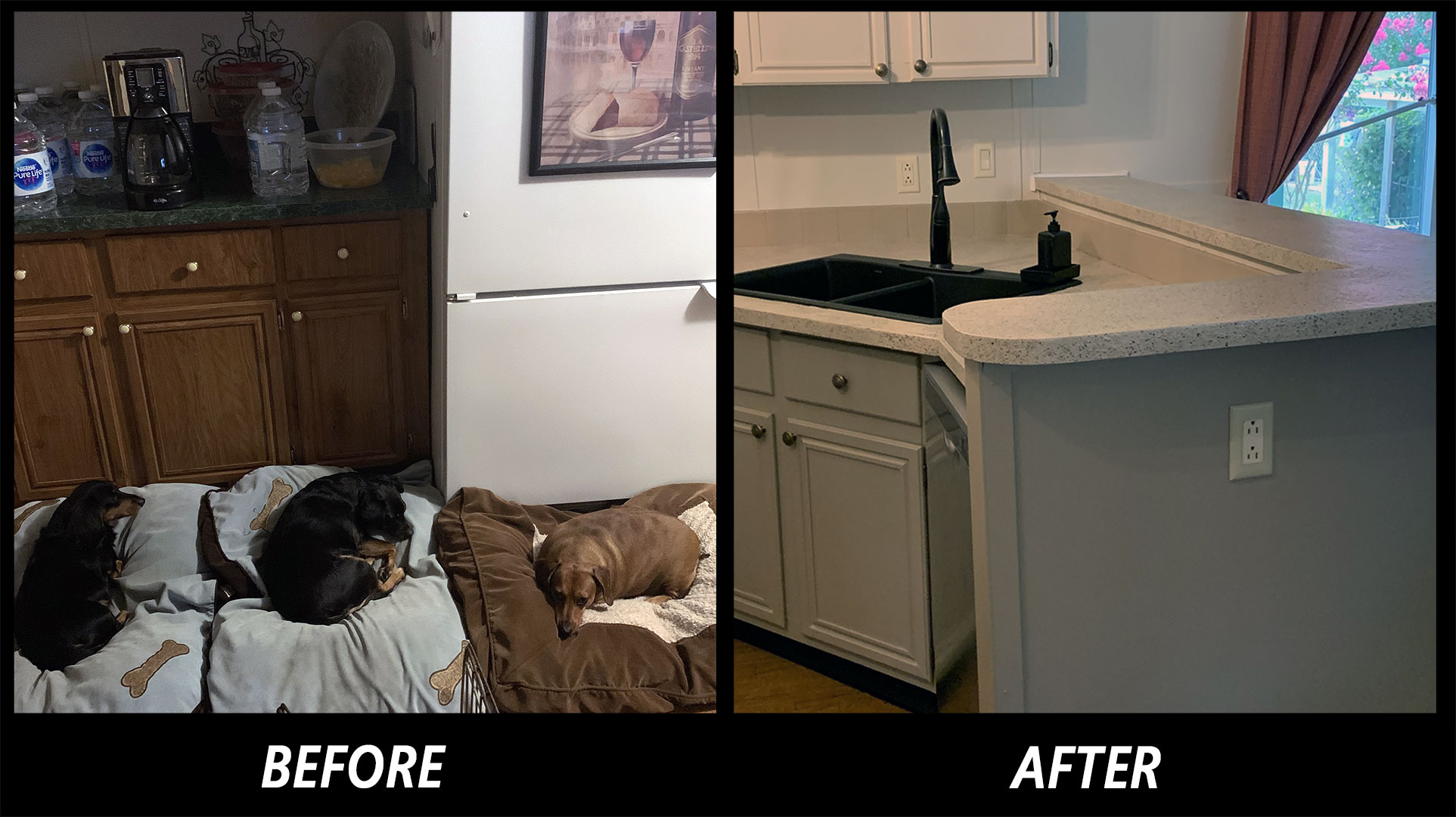 With enthusiasm, Victoria pulled out her old kitchen sink and faucet before tackling the countertop project. She followed all the instructions for the SpreadStone kit and installed a new Oyster color. She sanded her kitchen countertops smooth, but when it came time to redo her bathroom, left the countertops with a more textured "bumpier" feeling.
For her main bathroom, Victoria painted her cabinets black and used the Volcanic Black SpreadStone kit. "My faucets were black and bronze, so the black with the textured stone chips looks great," says Victoria.
Victoria's tip is, if you're tackling lots of countertops, invest in a cheap orbital sander. She says it made the job easy, even with her weak arms.
Starting a Neighborhood Trend
While her old bathroom and kitchen countertops "depressed" her, Victoria is excited about what she's created in those rooms with her DIY talents.
"I love both my kitchen and bathroom now and would do it all over again," says Victoria. "I wish I had known about the SpreadStone countertop kits years ago so I could have enjoyed my kitchen and bathrooms sooner. When you retire, you spend a lot more time in your home. These DIY kits make my space so much more inviting.
"The results are so impressive that my neighbors were envious. They're now in the process of redoing their kitchen and bathroom countertops with SpreadStone kits. I think I've started a new trend in the neighborhood!"