Also available at these retailers:
The beauty of speckled granite with the strength of stone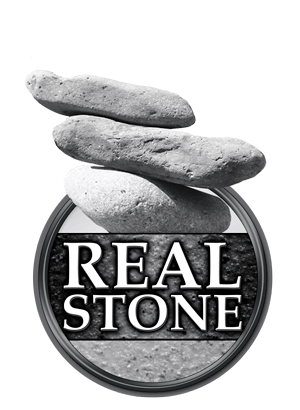 SpreadRock® is not speckled paint. It is an actual layer of rock that spreads on like butter and adds instant beauty and elegance to all kinds of existing concrete floor and wall surfaces as well as masonry, drywall, statuary, planters and more. SpreadRock's real stone composition is not applied by roller. Instead, it is easily applied in a thin uniform layer using a scraper, trowel or flooring squeegee and can even be applied with a texture sprayer.
SpreadRock's visual effect is timeless and stunning and will serve you well wherever you live. Harsh winter cold and punishing summer heat and sun are powerless against it, whether used on a patio, pool deck, porch or wall. It also makes for a beautiful and incredibly tough garage floor or other interior surface that can last for years.
Listen to an interview with Garry Sullivan about Daich Spreadrock®
Trowel or squeegee it on
with ease.
SpreadRock® Project Buying Guide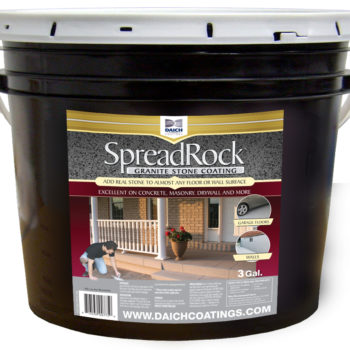 SpreadRock® is a real stone coating that can deliver years of solid performance and timeless beauty to all kinds of surfaces, both indoors and out. It's a simple THREE-STEP system that requires the following specific products and quantities for desired results…

These will stop the SpreadRock® coating from sliding on the floor during installation — and help ensure a uniform look and correct coverage. It also hides underlying patchiness and discoloration.
Coverage: 160 – 200 sq.ft. per gallon, depending on smoothness of surface and application thickness.
When dry, proceed to SpreadRock® application…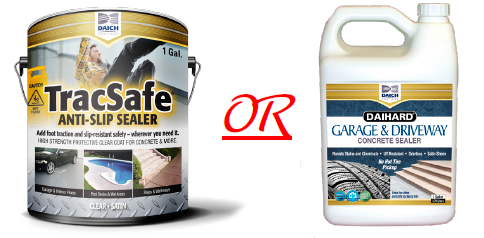 DAICH TracSafe Anti-Slip Sealer™ or Garage and Driveway Sealer. SpreadRock® must be sealed for final hardness, water and dirt protection. Seal with TracSafe Anti-Slip Sealer™. Choose this for slip-resistance on wet interior/exterior walking surfaces. Choose Garage and Driveway Sealer to protect SpreadRock® on garage and heavier duty surfaces. 
Coverage: 400 sq.ft. per gallon, per coat.
Seal it the next day after SpreadRock® has cured for 24 hours. DONE!
**Use only DAICH sealers. Do not substitute.
Achieving optimal results and correct coverage with SpreadRock® is based on application of two thin coats over your primed surface. Whether you are troweling by hand with a standard metal pool trowel — or using the SpreadRock® Squeegee Trowel from a comfortable standing position — the key is to press firmly with your chosen tool to spread the stone further.
IMPORTANT: SpreadRock® can cover up to 60 sq.ft. PER GALLON, PER COAT. However, since SpreadRock® is an actual stone overlay and not paint, coverage can vary due to thicker application, surface roughness, pitting and other flaws that may consume more SpreadRock® as you trowel in down. That is why we always suggest ordering approximately 20 – 25% more SpreadRock® than your calculated coverage area suggests, just in case. This will help ensure adequate coverage and a quick, successful and beautiful project without delays due to inadequate supply. It can also give you additional material for any needed touch-ups later on. 
Spreadrock® Installation Videos​
How do you apply a genuine, finely pebbled stone finish onto concrete, cinder block, brick, drywall and more in a weekend – without breaking the budget? You SpreadRock it! This elegantly beautiful REAL STONE finish looks just like speckled granite that would otherwise cost you thousands if you went with traditional installed materials. Instead, SpreadRock lets you easily install a lightweight stone veneer anywhere a long lasting upgrade is desired – at a fraction of the cost.
See what our customers
have created.
Frequently Asked Questions
Is SpreadRock™ really made of Stone?
YES, SpreadRock is a very tough granular multi-colored mix of stone that you spread onto the surface to add a durable and attractive new stone layer that can last for many years.
How many steps are involved to install SpreadRock™?
SpreadRock is a simple three-step process requiring a coat of DAICH Textured Primer (to anchor into the concrete and create an optimal bonding surface), followed by two thin coats of SpreadRock – and DAICH sealer the following day. With dry times in between, the SpreadRock system can be applied easily over a weekend for lasting beauty and performance.
How many square feet does SpreadRock™ cover?
SpreadRock® covers up to 60 sq.ft. of surface per gallon per coat. Two coats are required for the most uniform looking and lasting results. If the surface is pitted or very textured – or if the product is applied thicker than required – coverage area may be reduced.
I've read comments about low coverage. How do I achieve correct coverage?
The answer to this question is easy. Just apply SpreadRock in two VERY THIN coats AND PRESS FIRMLY with your trowel or squeegee-trowel during application to ensure you don't apply it too thick. Also, keep in mind that if your surface is very pitted/textured, this may gobble up some of the product as you fill indentations in the concrete surface, which will reduce your rate of coverage. To be sure that you always have enough for your application and to have a little extra in case you ever need to do a touch-up, order 20-25% more SpreadRock to overcome possible shortages.
Why does SpreadRock™ have to be sealed? What sealer do I use?
Yes, SpreadRock needs to be sealed to protect your new finish from water and and dirt penetration, and keep it looking clean. Use either DAICH Ultra Clear Coat Sealer — or for added slip resistance in wet conditions, use DAICH TracSafe Anti-Slip Sealer.

Apply sealer only after your completed SpreadRock application has cured for 24 hours.
How do I effectively mix SpreadRock™ in the can?
Use a drill mixing attachment for fast, easy and thorough mixing of SpreadRock stone coating.
How long do I wait between coats?
Since, you will be applying SpreadRock very thinly (to achieve correct coverage), it will dry fairly quickly. Outdoors, in warm, dry weather, allow dry time between coats of about 2 – 3 hours to ensure that it is firm enough to accommodate your weight when you walk on it to apply the second coat.
Can I use a roller to apply SpreadRock™?
No, SpreadRock cannot be applied with a paint roller.  SpreadRock is a thick stone paste you skim onto the surface using either a hand trowel with rounded corners (also called a "pool trowel") or a SpreadRock Squeegee Trowel to apply from a standing position.
How do I get the most uniformly colored finish?
Follow these rules during application for excellent results:

Rule#1: If you receive SpreadRock with different batch numbers, mix them together in a different container with a drill mixer before use. This will ensure that minor color shifts between batches are eliminated and not visible in your finished result.

Rule#2: Always work "wet-in-wet" with SpreadRock. Keep a water spray bottle handy (see the instruction video) to keep edges moist and encourage smooth blending.

Rule#3: Apply a smooth uniform THIN coat of SpreadRock and then leave it alone. Don't repeatedly disturb the stones once they have been applied to the surface which can create a "textured shadow effect" in the finish that appears like lighter and darker areas.