72.95 CA$ – 189.95 CA$ Free Shipping (up to 600 lbs).
Please note that while we strive for colour accuracy, actual product colours may vary slightly from the samples shown above.
To order a full set of color samples of RollerRock, click the button below.
Also available at these retailers:
Cover your dull concrete and transform the look of your home in a weekend...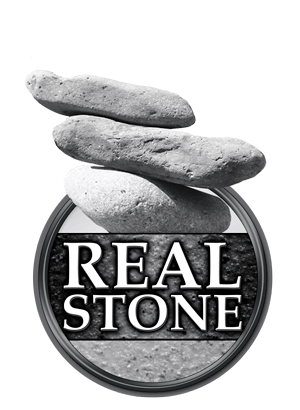 If you're tired of struggling with concrete paints and other retail coatings that never last, you owe it to yourself to give RollerRock® a try on your concrete surfaces.
RollerRock® is a tough, decorative, textured concrete coating made from real stone. It's a unique pre-mixed self-priming formula that rolls on easily to add a new surface to exterior concrete porches and steps, patios, walkways, pool decks and more. It's also an excellent finish for garage floors. RollerRock's high performance formula resists water, stains, impact and abrasion and stands up to all climate extremes-from sub-zero winter conditions, salting and snow shovelling, to harsh UV rays and heat.
Using just a roller and brush, you can dramatically improve surfaces all around your home or business with a real stone finish that lasts … in your choice of fifteen colors.
From cozy little patios to large commercial surfaces, RollerRock® is proven everywhere — and it will do the job for you too. Its attractive textured finish effectively hides hairline cracks and ugly patchy looking concrete repairs and turns any drab exterior concrete into a colorful and functional slip-resistant surface.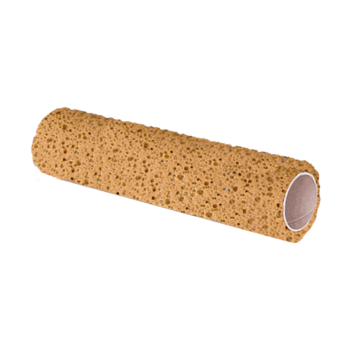 Purchase any colour of RollerRock, and receive 1 free stone texture roller!
Primary Features and Benefits...
RollerRock® Project Buying Guide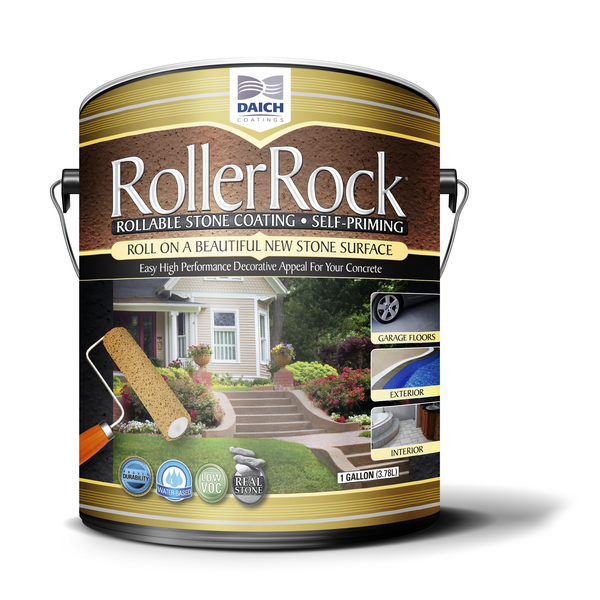 RollerRock® is more than just a beautiful and weather resistant decorative coating for exterior concrete. It's also an excellent way to resurface your garage floor, workshop and other demanding use floors.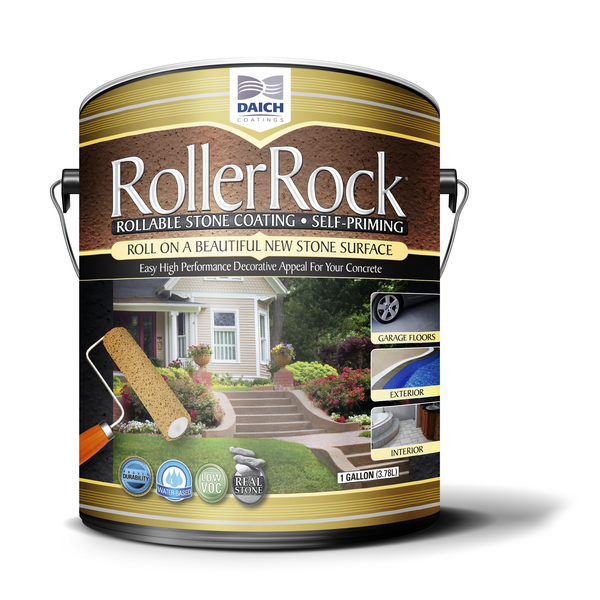 Apply TWO COATS of RollerRock® a few hours apart…
Daich Primer for pre-painted surface

RollerRock® – 2 coats

Daich Sealer
Surface roughness/texture and application thickness can impact RollerRock® coverage. Apply RollerRock® in two uniform coats.
Purchase quantity recommendations calculated using conservative coverage rates to help ensure adequate supply…
Specifications for ROLLERROCK® Rollable Stone Coatings
Available Sizes: 1 and 3 Gallon
Coverage Area Per Gallon: (sq. ft.): 85 – 100 ft²
Application Method: Roller and brush
Base Material: Acrylic
Dry To Touch Time: 1 hour
Interior/Exterior: Interior / exterior
Coats Required: 2
Time before recoat (hours): 1 to 3 in warm dry weather (longer in damp or cool conditions)
Sealer Required: Yes (apply next day)
Sheen: Flat/Matte
Substrate/Surface Usage Type: Concrete
Clean Up: Soap and water
Transparency: Solid/opaque
Vertical/Horizontal: Vertical / Horizontal
Maximum Optimal Temperature: 85 F (30 C)
Minimum Optimal Temperature:  50 F (10 C)
RollerRock® Installation Videos​
Your bare exterior concrete is a target for stains, salt damage, water-penetration, wear and eventual failure. Give your concrete more traction, strength and beauty overnight with three simple steps.
RollerRock, by Daich Coatings, is more than just a beautiful and weather resistant decorative coating for exterior concrete. It's also an excellent way to resurface your garage floor, workshop and other demanding use floors.
Frequently Asked Questions
How is RollerRock® different from paint?
Simply…RollerRock® IS NOT paint. It is a high performance concrete coating made of STONE. Paint is only a super-thin layer of color in a bonding resin that sticks to your concrete for a short time until it is scrubbed off under foot traffic or tires — or impacted by seasonal climate extremes. In contrast, the STONE that makes up RollerRock is a time-tested shield that comes to you direct from nature!
What is the coverage rate of RollerRock®?
RollerRock is applied in your choice of two textured finishes, each with it's own application thickness and resulting coverage rate. The "stone texture" finish is the most commonly applied RollerRock finish with a coverage rate between 80 – 100 sq.ft. per gallon, per coat. Two coats are required for all-season durability and lasting performance.
RollerRock's other finish is called the "tile texture" finish. It goes on a bit thicker with an average coverage rate of 60 – 70 sq.ft. per gallon. Coverage rates may vary with roughness of the surface being coated.
What is the difference between the stone and tile texture finishes?
The "stone texture" finish is applied with the "Stone Texture Roller" and is primarily used outdoors where a more rustic, anti-slip surface is required. Two coats 2 – 4 hours apart are recommended for the most durable, uniform and attractive results.
The "tile texture" finish is applied with the "Tile Texture Roller" for a smoother softer result that resembles tile. The Tile Texture finish can be applied in just one coat — or for the ultimate durable finish, in two coats to form a very tough stone layer.
Is RollerRock® recommended for a garage floor?
RollerRock is a uniquely beautiful finish for any garage floor. We recommend the tile texture finish for garage floors for its superior cleanability and refined, solid appearance. It stands far apart from stereotypical epoxy / flake garage floor finishes and imparts a tough, slab-like stone surface with extreme resistance to hot tires. Top-coat with Daich DaiHard Epoxy Clear Coat for a beautiful, lasting finish.
I've never heard of RollerRock®. Is this stuff new? How do I know it works?
RollerRock is installed on millions of square feet of concrete throughout North America and around the world. It has an outstanding 15 year performance track record, standing up to extreme climate conditions and daily wear and tear. It is used residentially and commercially — and in all cases, we stand behind our products and keep our customers satisfied.
Is RollerRock® slip-resistant?
Yes, very much so! In fact, in laboratory testing, RollerRock's "stone texture" finish, applied as directed, delivered an anti-slip score of 0.093 — almost TWICE the OSHA recommended standard.