From olive green Formica countertops to delightfully sparkling SpreadStone Mineral Select countertops. Lee Martin made the transformation five years ago in her mother's Oregon home, and she has no regrets.
"This product has shown absolutely NO wear," says Martin. "And yes, this little kitchen gets used extensively. To say this SpreadStone product is terrific doesn't come close to praising it enough!"
Small Kitchen = Big Transformation
Martin's love affair with SpreadStone started in 2017. She decided to remodel her mother's kitchen, living room and hallway. Family members encouraged her to get a cultured stone or marble counter for the kitchen.
"They were quick to offer ideas, but no one rushed to write me a check to help with expenses," says Martin.
That's when Martin leaned on the DIY skills she learned from her father. With the help of YouTube videos and her trusty Reader's Digest "How to Fix Just About Anything" book, she was off and running! Her first decision was to invest in a SpreadStone Countertop Finishing Kit.
"Actually, any person who can use a paint brush and roller can create a masterpiece countertop without any talent at all using the SpreadStone kit," says Martin. "The training instructions and videos can turn any novice into a Michelangelo without any effort!"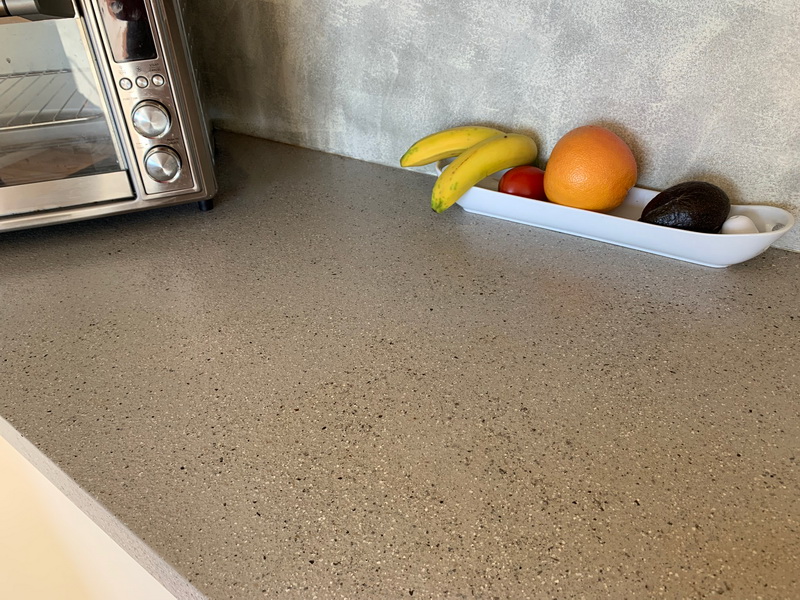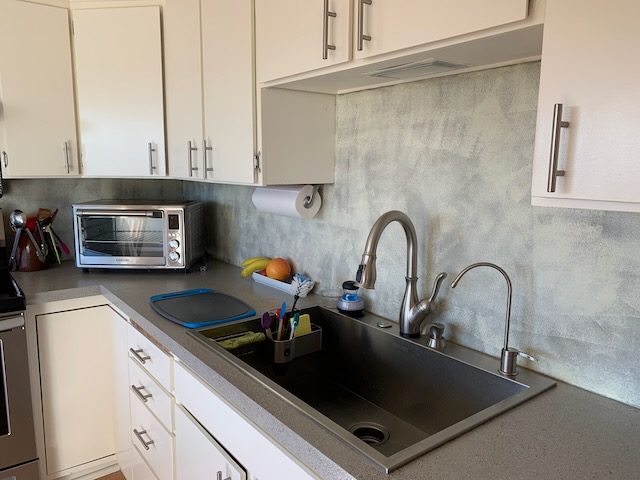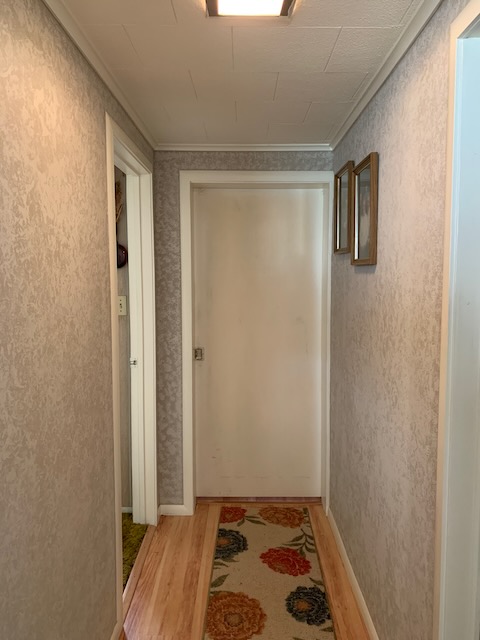 With the new countertop complete, Martin turned to the old, tired paneling in the hall and living room. She worked with Paul Bordin at Daich Coatings to get the perfect colors to coordinate with the paint trims and cabinetry she had selected. The VertiStone Roll-On Wall Texture was custom created with soft gray colors that she loves.
Martin roughed over the existing panels with sand paper and primed the surface. Then she followed the directions and applied the base and mix coats.
"With the newly-refreshed painted ceiling, walls and trim, Mom's house was given new life," says Martin. "It looks just as good as the home improvement shows on TV!"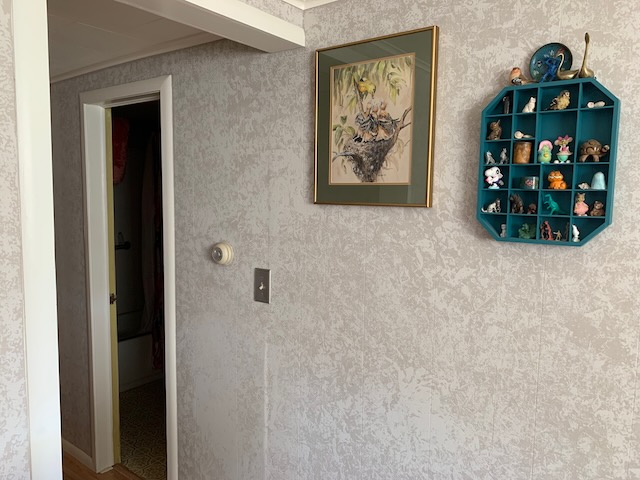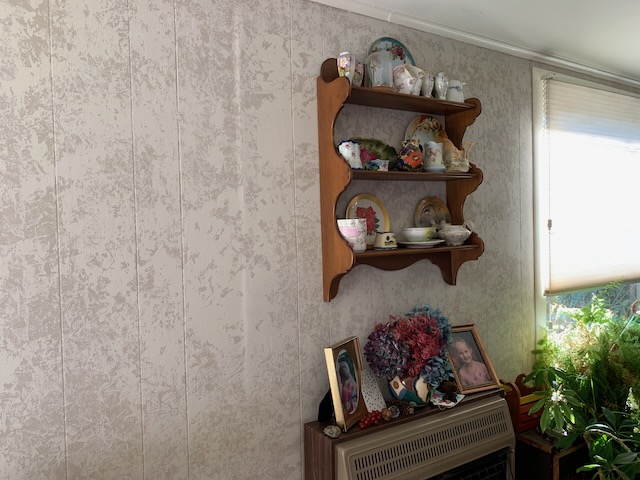 Even though her remodeling project was finished five years ago, Martin hasn't retired from her Daich projects. She continues to answer questions from friends and family about her transformation work on the little home on the Oregon Coast.
"I had a group over one evening and put on a little 'how to training show' with the Daich Coatings materials," says Martin. "I showed the company videos and handed out my own tips manual of ideas I created from my research and experiences.
"In addition, I've remodeled a couple bathrooms and kitchens for friends over the years. At my brother's old farm house I did SpreadStone countertops in some bathrooms. When he sold the house, the buyers said the look of the bathrooms helped influence the sale!"
Five Years and Going Strong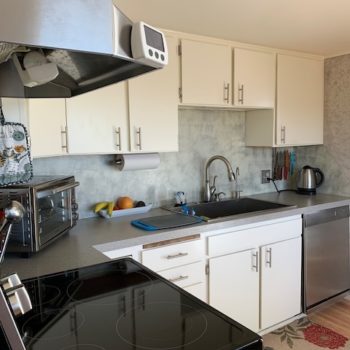 Five years after installing the SpreadStone countertop in Onyx Fog, Martin's surfaces still look brand new. She uses soap and water to clean it (never bleach or chemical cleaners).
"Even though coffee and food items have been dribbled on the surfaces, they never stain," says Martin. "We wipe the spills away with a wet sponge and the countertops look great."
Martin chuckles that she still gets compliments from family on the countertop … the same family members who wanted her to buy real granite.
"Recently my sister-in-law commented that the counters looked new," says Martin. "I said, 'well thank you, but they're five years old.' I also reminded her that SHE was the one who told me that a product from a kit would never hold up.
"When I told her the kit only cost me $100 at the time, she really couldn't believe it. This extremely durable product has not only lasted beautifully, it also made my sister-in-law blush!"