Just 32 Innovator 2125 RB Travel Trailers were ever made. And the Healey family has one of them. But before they ever hit the open roads, Nicholas Healey had a plan. He wanted to revitalize the bland "gray-on-gray-on-gray" interior of the 2020 RV.
"I saw the inside as a blank canvas," says Healey. "Every surface is paintable in this unique RV. I wanted to transform the faded, dull countertop, dinette table, bathroom vanity and end tables. For that I found LuxROCK™. This product exceeded my expectations."
The DIY kit from Daich Coatings includes everything necessary to transform a flat surface into a luxurious stone surface that looks and performs just like real granite. Available in kit sizes to cover either a 20 or 40 square feet space, LuxROCK comes in five colors including Galaxy Black, Carrara, Crystal Quartz, Basalt Mist, and the color selected by Healey, Platinum White.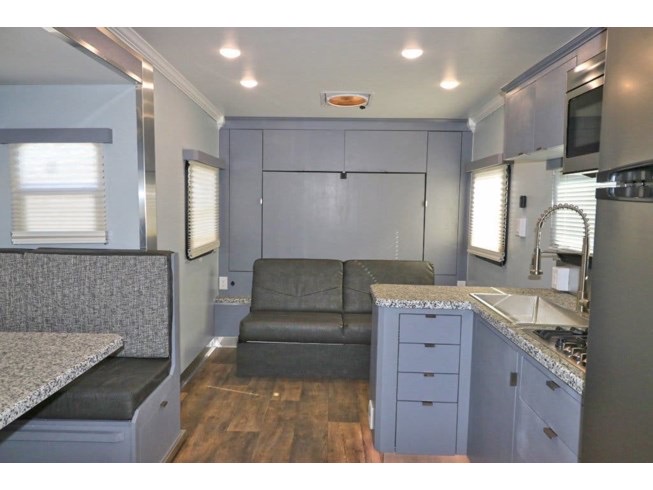 "Application was easy," says Healey. "We followed the directions very closely and watched the installation video. We taped off the different areas carefully, especially around the stainless steel sink, backsplash and stove. The instructions made it clear that sanding of the stone layer was very critical. I spent extra time on this step and the results were great. We had no problems working with the product in a relatively small area.
"With an RV, everything comes down to weight. I'd definitely recommend the LuxROCK product to freshen up any RV. It doesn't add any weight, and it's easy to apply. I wasn't sure I could get it to look like the videos, or if it would really look like a solid surface countertop, but it does. All the surfaces turned out great."
For the Healeys, the LuxROCK application was actually the last piece of the puzzle to getting rid of the multiple shades of gray in the 25-foot long trailer. Gaining insights from an aunt, a retired interior designer, on color palettes and fabric, brought out bold shades of lime green and white throughout the RV's interior.
"The upholstery made a big difference," says Healey. "Then the countertops really pulled everything together and truly helped brighten up the space. The entire interior was painted other than the ceiling. Now we've got the space we knew it could be all along. It was worth the time and effort.
"From the manufacturing line, this is number 5 of the 2020 Innovator trailers made. I'd love to see what the owners of the other 31 have done with their interiors. But I'm betting LuxROCK gave us the best surfaces of any of them!"
The Healeys are now ready to hit the open roads. They'll travel throughout the Midwest and may even head south to the Gulf of Mexico. Along the way, it's guaranteed that they'll be giving some campsite tours of their interior DIY makeover success!