This summer Kristin dePaula is truly enjoying her back yard. That's because she recently transformed her expansive patio area with our SpreadRock granite stone coating. And, to finish off the project, she added TracSafe Anti-Slip Sealer.
"The Daich Coatings products brought out the full potential for making my patio area a showplace," says dePaula. "I love the Mocha color that I selected. And, topping it off with TracSafe is a lifesaver. Even when it's wet or I'm wearing heels, I can confidently walk on the patio with no concern for slipping."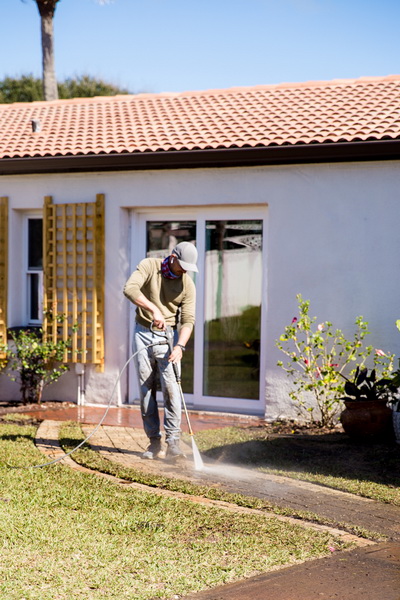 The Florida homeowner and her handyman tackled the project in several steps. First was the prep work, including pressure washing the surfaces. Then a primer was laid down, followed by the SpreadRock and TracSafe. She reported on the entire experience on the Daily Mom website. Her story shares step-by-step tips for the project, including:
Tip #1 – Make sure to be generous on your calculations when ordering the primer, coating and sealer. Some concrete surfaces "soak up" product more than others, so you'll want to have extra product available to compensate.
Tip #2 – Don't skimp on the pre-steps. Pressure washing every surface to remove dirt and moss is critical to having good results.
Tip #3 – Try to match your Textured Primer color with the color of your SpreadRock. This way, in tight areas (such as the edges of steps) if you don't have perfect coverage, or the product comes out a bit too thin, the underneath primer color will closely match your chosen SpreadRock color.
Tip #4 – Get ready to work quickly when applying the SpreadRock. The product dries quickly, especially at the edges, and you'll want to be ready to move steadily forward.
"Overall the Daich Coatings products have made a huge upgrade to my backyard and patio," says dePaula. "My Sulcata Tortoises, Leonardo and Michelangelo, love exploring the new surfaces. And, I don't have to worry about them getting burned. Even on hot Florida days, the TracSafe sealer keeps the patio surface cool and comfortable!"