As a project manager for Design Pool and Spa in Fairport, New York, Bill Forster knows swimming pools. After 18 years in the industry, he recently discovered an economical way to renovate pool deck surfaces: RollerRock® Stone Coating. However, before he recommended it to his company's leadership or clients, he tried it out on his own concrete pool deck.
Forster's home near Rochester, New York was built in 1966. Around 1970 a concrete pool and deck were added.
"The pool deck was obviously applied by amateurs," says Forster. "Over time it had spalled, cracked and needed surface repairs. I've been thinking about how to make it look better for a few years. A subcontractor in Buffalo recommended Daich Coatings products."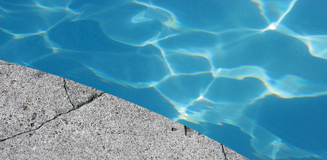 After researching the product online, Forster contacted the customer support team at Daich Coatings. He ordered RollerRock samples and started prepping the surface.
"Preparation is key for a project like this," says Forster. "It includes acid washing and pressure washing. I also had to repair the cracks in the surface. After everything dried we started applying the RollerRock in a Coriander color with a stone texture roller. We followed all the directions. When that surface was finished we completed the project with two coats of Garage and Driveway Concrete Sealer. The transformation is incredible!"
The RollerRock roll-on stone coating used in Forster's pool deck project is made of real stone. The high performance formula resists water, stains, impact and abrasion. It also stands up to all climate extremes from sub-zero winter conditions, salting and snow shoveling, to harsh UV rays and heat. The tough, textured coating comes in 15 different colors.
"Design Pool and Spa builds high-end concrete swimming pools in the Rochester – Syracuse – Binghamton area," says Forster. "I can see that this would be a good system to associate with our construction. It's a bit different for our business model, but I believe it would have strong value.
"For my home, the RollerRock was pretty ideal. It gave new life to a really old pool deck without being too costly. It's a good investment that I'm excited to share with my company."