Mettez à niveau avec la beauté de la pierre  •  DURABILITÉ TOUTES SAISONS
79.95 CA$ – 236.25 CA$ Livraison gratuite (jusqu'à 600 lb).
Please note that while we strive for colour accuracy, actual product colours may vary slightly from the samples shown.
To order a full set of color samples of Terrazzo, click the button below.
Ajoutez rapidement et facilement une belle finition antidérapante à haut rendement à n'importe quelle surface.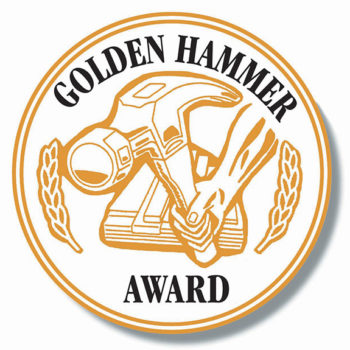 Vous pouvez considérablement améliorer presque n'importe quelle zone de marche - à l'intérieur et à l'extérieur - en la resurfaçant avec Terrazzo™.
Terrazzo™ is not paint. It's a liquid flooring system you roll on. Terrazzo™ looks beautiful anywhere — and with it's tough stone backbone it will protect the underlying surface and stay looking great.
Terrazzo's unique formula brings you a seamless overlay that is both attractive and functional. Use Terrazzo™ to create a brand new patio or pool deck, an inviting new entryway, a decorative seamless garage or basement floor — and much more.
 Il n'y a pas de moyen plus simple de renouveler rapidement les surfaces avec des performances durables et une nouvelle élégance.

Caractéristiques et avantages
Terrazzo™ Project Buying Guide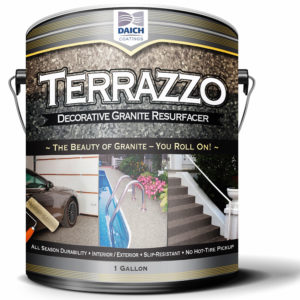 Terrazzo™ is a simple ROLL-ON system with these specific products and quantities for desired results…
If surface is very smooth, first prime with...

These will stop the Terrazzo™ coating from sliding on the floor during installation — and help ensure a uniform look and correct coverage. It also hides underlying patchiness and discoloration.
Pouvoir couvrant : 160 à 200 pieds carrés par gallon (peut varier selon la rugosité de la surface et l'épaisseur de l'application).
Otherwise, proceed directly to Terrazzo!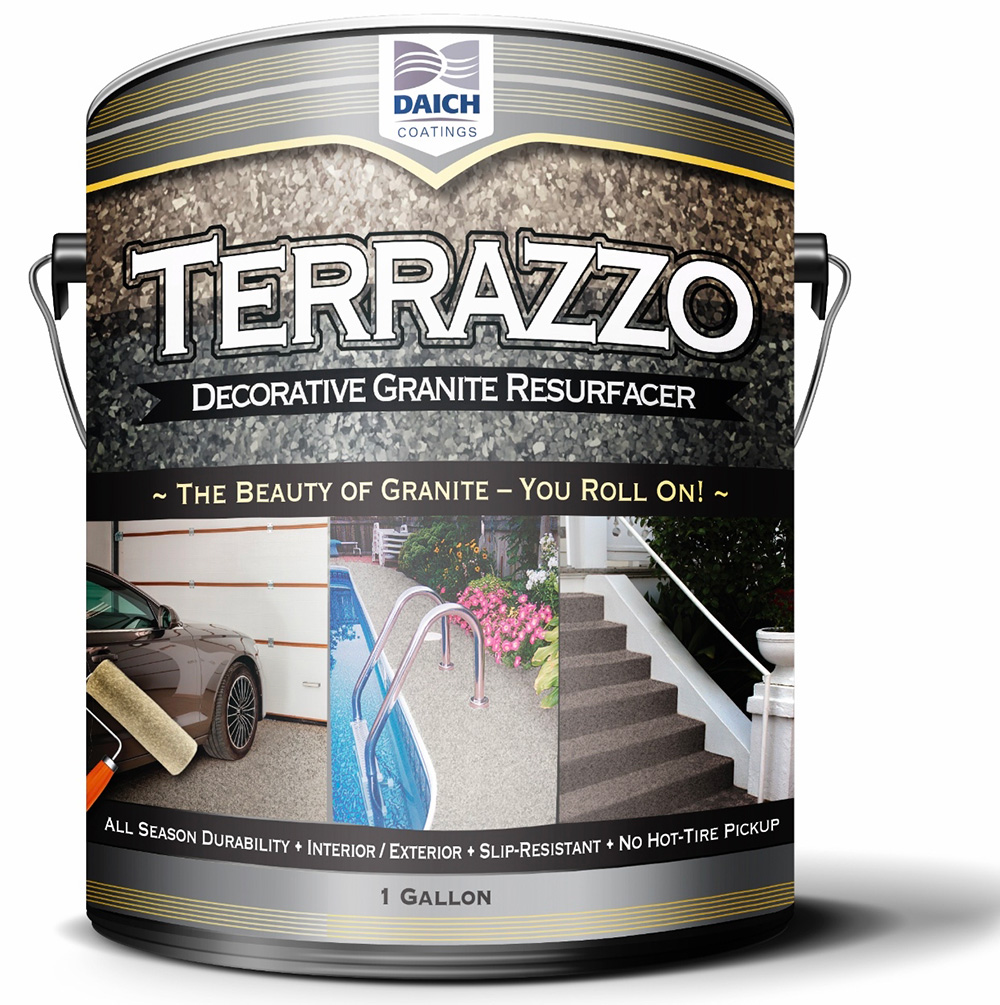 Terrazzo™ Granite Coating
Coverage: 40 – 60 sq.ft. per gallon, per coat depending on smoothness of surface and application thickness. Apply two thin coats 24 hours apart.
| | Primer | TERRAZZO | Sealer |
| --- | --- | --- | --- |
| | | | |
| | | | |
| | | | |
| | | | |
| | | | |
| | | | |
Surface roughness/texture and application thickness can impact Terrazzo coverage. Apply Terrazzo in two very thin coats, pressing firmly with the roller as detailed in the video.
Purchase quantity recommendations calculated using conservative coverage rates to help ensure adequate supply…
Terrazzo Installation Video
L'installation de Terrazzo est simple et rapide. Vous adorerez la facilité d'étalement de Terrazzo en utilisant une combinaison de raclette et d'action de roulement - le tout avec le même outil. Apprécier!
Appliquez-le en 2 étapes faciles.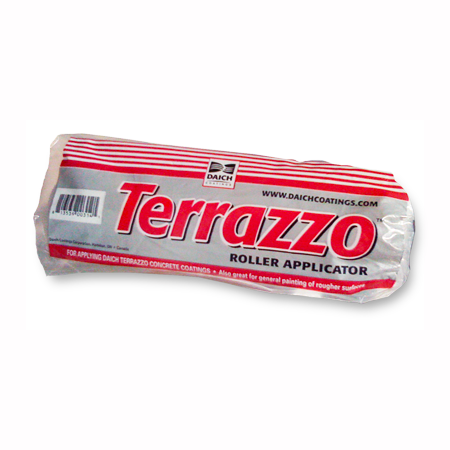 Vous devez utiliser un rouleau de terrazzo
Let dry for 24 hours between coats.
Coverage: Up to 60 Sq Ft. per gallon.​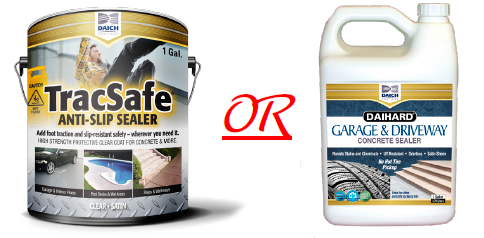 Le terrazzo doit durcir pendant 24 heures avant de sceller.
Laissez sécher pendant 24 heures.