Smooth Vs. Textured Appearance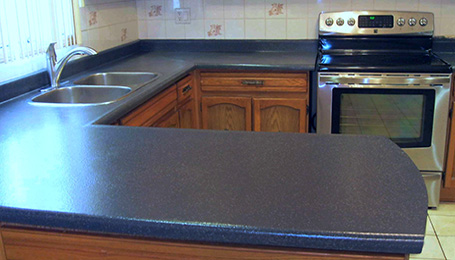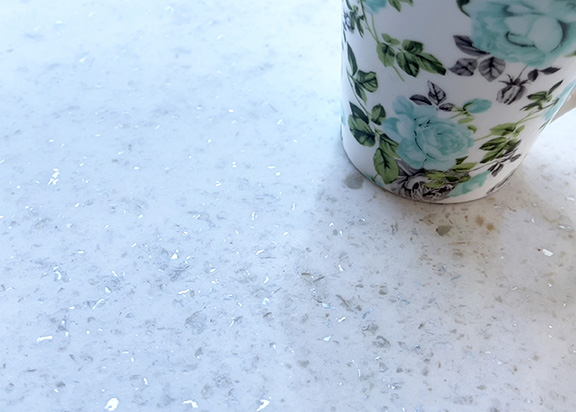 LuxROCK™ provides an elegant, smooth polished finished. An authentic granite appearance is highlighted by attractive sparkling mineral accents. The semi-gloss shine of the finish can be achieved in six steps, and the product is intended only for interior use.
SpreadStone™offers a speckled stone appearance, with the final finish that can be smooth or textured, based on the desire of the person applying the product. The result is a lower sheen, natural stone slab look that can be used in both interior and exterior locations. SpreadStone finishes can be achieved in a four-step application process.
"Quite simply, with LuxROCK you get the high-end pop of a sparkly polished surface," says Peter Daich, president of Daich Coatings. "Then with SpreadStone, you can finish the surface off to the textured level you wish, bringing out the natural stone appearance."
"Best of the Best" Benefits
An abundance of similarities exist for both DIY kits from Daich Coatings. Surfaces created with LuxROCK and SpreadStone offer excellent resistance to stains, hot pans, and demanding daily use. This can include impact, abrasion and household cleaners. In addition, the coatings are mainly water-based, with low VOC formulations, emitting low odors during application.
"The kits for each product have everything included to successfully complete the project for 40 square feet of space," says Daich. "All the coatings, application tools and sanding accessories are in the kits. People only need to supply painter's masking tape and drop clothes or old newspapers."
Daich points out that a SpreadStone project is very easily applied by roller and can be finished in two days. The LuxROCK application is done by both brush and roller, and takes three days to complete. In both cases, when following instructions, no significant technical or artistic skills are needed to achieve excellent results.
"We've had people who have never done a DIY project before rave about how easy it was to change their countertops with our products," says Daich. "That's our goal. To help make it easy and cost affordable to transform a surface with our kits."
While similar, there are distinct differences between the two Daich Coatings kits. LuxROCK incorporates a unique marble-stone blend, and the kit retails for $299. The SpreadStone kit features a blend of rock and key mineral accents that harden together into a tough decorative stone matrix. This kit retails for $125.
SpreadStone kits come in 11 popular colors: Bright White, Canyon Gold, Ironstone, Lodestone, Mantle Stone, Natural White, Onyx Fog, Oyster, Sundance, Volcanic Black and Yosemite. Named and modeled after real granite countertop favorites, the colors available in the LuxROCK kits include Galaxy Black, Platinum White, Basalt Mist (a dark gray), Crystal Quartz (a light gray) and Carrara (a creamy beige).
"The SpreadStone kit has been a decorative, cost-saving countertop and surface option for almost 10 years," says Daich. "We've now 'stepped it up' by introducing a revolutionary, smooth and glossy polished granite finish with the LuxROCK product. Both are stunning options to real granite or stone slabs. And, both offer a way to transform old laminate, wood, concrete or MDF surfaces into dazzling, yet functional, works of art."
Have more questions? Then check out our Product Comparison Chart showcasing the key features of LuxROCK versus SpreadStone.