What first-time DIYers Chad Wade and Kenlyn Huett lack in skills, they make up for with passion and determination. The result? The complete transformation of an ugly concrete slab into a jaw-dropping artistic sun mosaic patio.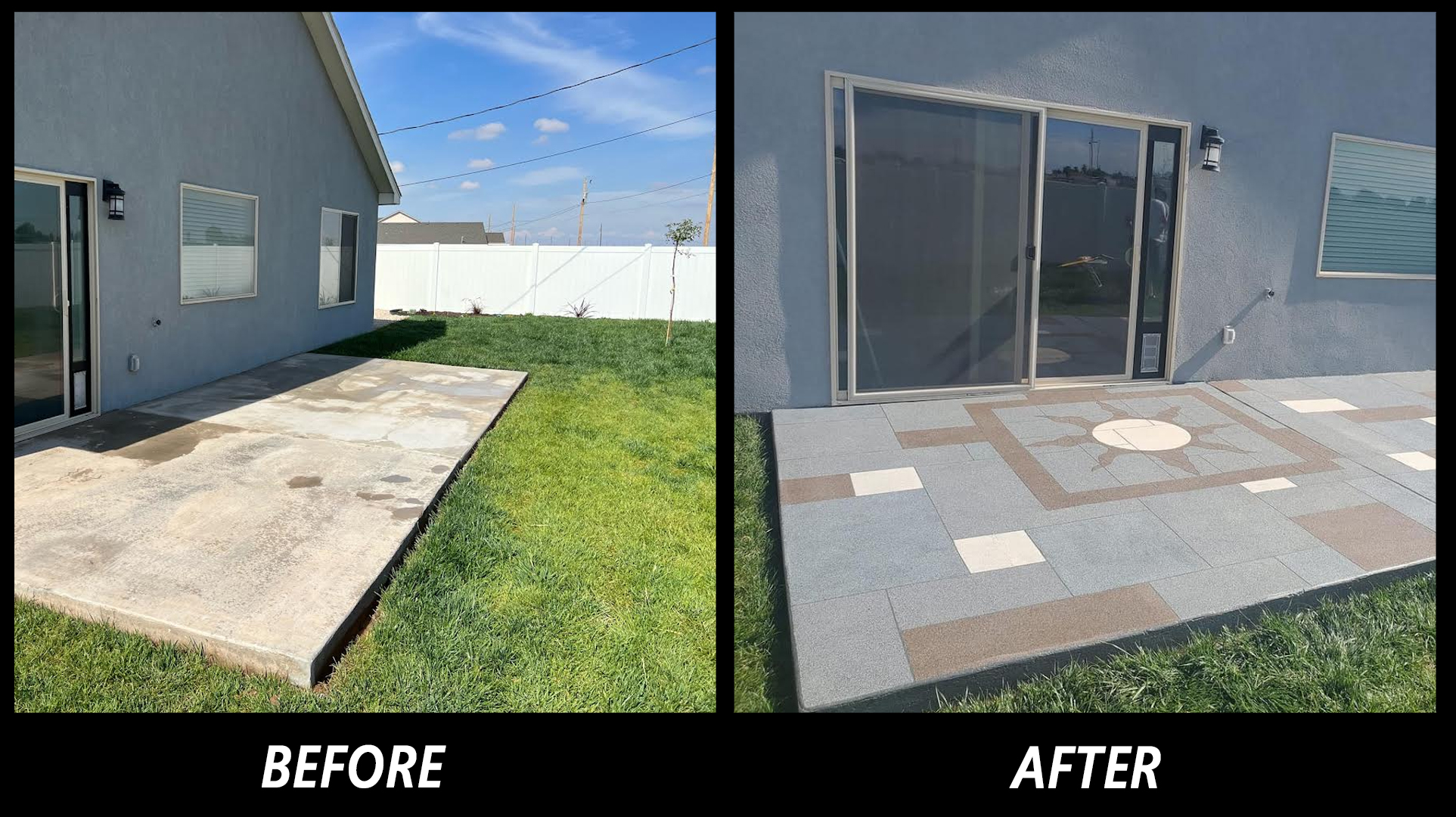 "Kenlyn wakes up by sipping her coffee watching the New Mexico sunrise from that concrete area," says Wade. "She wanted something with more style so we considered different tiles, products and designs. I promised her a sun mosaic."
An IT person for a small hospital, Wade dipped his toe into the DIY pond by first designing the patio mural using Microsoft™ Paint. He looked up patio images for inspiration and drew random lines. The sun is based off a video game series meme the couple enjoys.
Choosing a Granite Stone Coating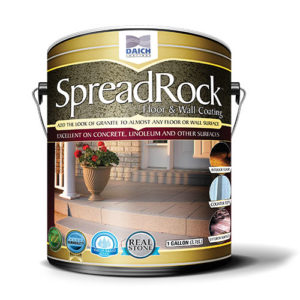 As the design was finalized, Wade searched for products to bring the drawing to reality. He stumbled on the Daich Coatings website and contacted the company.
"I selected SpreadRock® because it has the look, the color and texture I wanted for the patio," says Wade. "The reviews and walkthroughs showed it was something I could do myself. When I spoke with Paul Bordin at the company, he sent me samples. He worked with me on the project and helped me select the colors and order the correct volume of product I needed."
A granite stone coating, SpreadRock has a bonding technology that ensures solid adhesion, superior flexibility and dependable durability for both interior and exterior projects. The coating can be spread on with either a squeegee or trowel application on both horizontal and vertical surfaces.
With the blank concrete canvas before him, Wade selected rich colors of Anvil, Sandstone, Mocha and Ice Gray in SpreadRock to create the sun mosaic.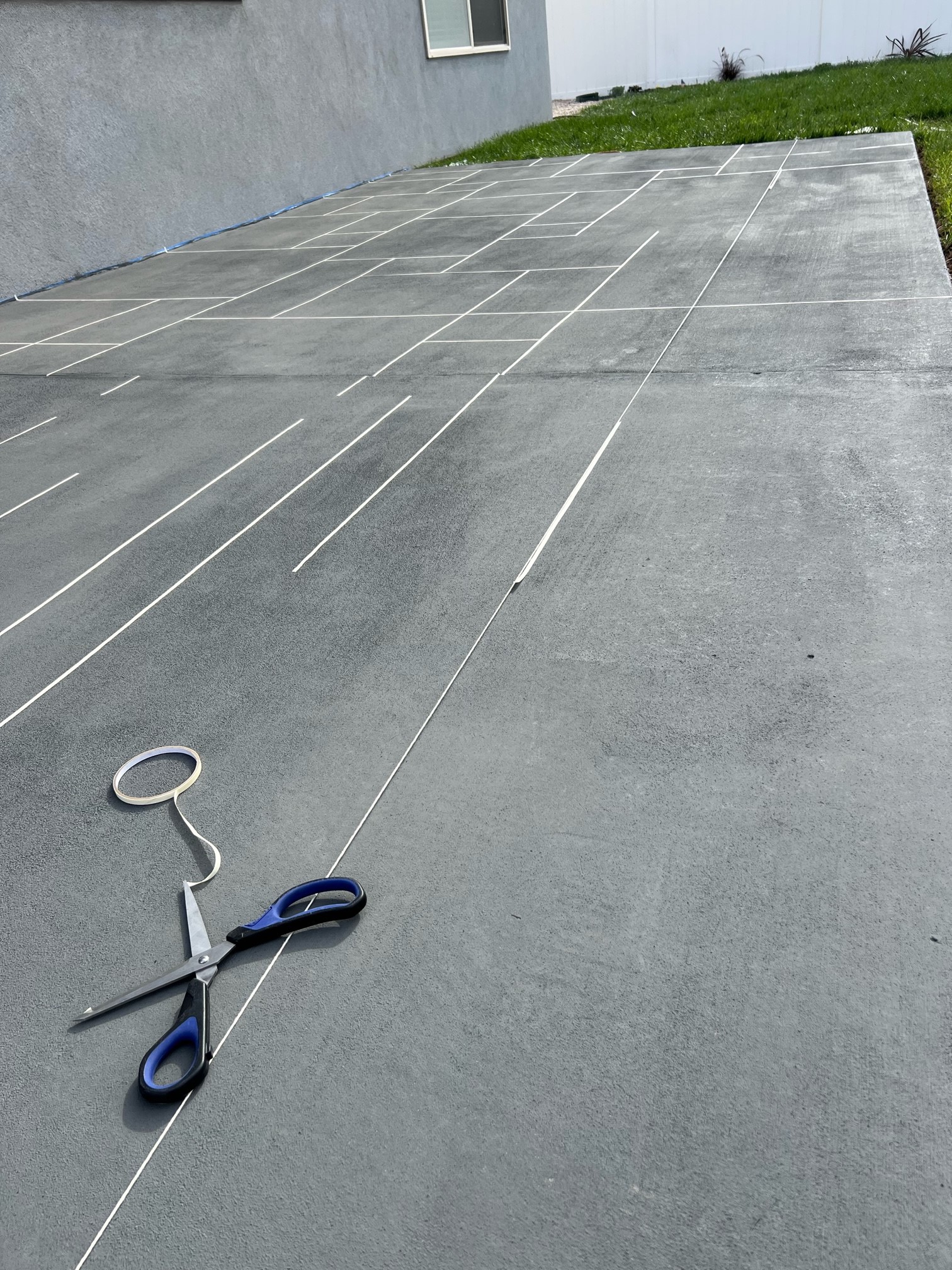 Wade took three days off from work and got down to work. He began by prepping the 10' x 25' surface. First he washed it, using a Concrete Cleaner & Etcher, then let it dry. Next he applied a Textured Primer in Charcoal. Then he taped down the design with Stenciling Tape. Finally, he was ready to add the SpreadRock.
"I thought I'd knock it out myself mostly with a spray gun," says Wade. "A few quick tests showed me the sprayer wasn't going to work for the fine detail I needed. Same with rollers. Kenlyn had taken time off too and we just kept trying. Eventually we settled on small trowels and putty knives for the detail work. Once the project was completely dry we made sure it would last by using Hi-Build Ultra Multi-Purpose Satin Sealer.
"We wasted a lot of time with false starts and weather delays. And, we learned that DIY projects like this are a lot more labor intensive than they appear up front."
In the end it took six days to complete the project. But it was worth it. The patio design has generated praise from friends and family, many who can't believe they did it themselves.
"The patio looks so good that people think it's manufactured tile!" says Wade. "I would absolutely recommend SpreadRock and Daich Coatings. While this was probably a bigger project than we should have tried as first time DIYers, the outcome was terrific.
"Next up, I'm buying concrete step stones to make a path from the patio to the back gate. I'll get a large amount of pavers to fill in the space in a zero scape rock garden along the side of my home. I'll likely use SpreadRock on them as well. And, when we move someday in the future, we're going to figure out some way to take that patio with us!"