Karl Howard is ready for warmer weather and outdoor gatherings...
Last year, while cooped up during COVID, he decided to create an outdoor kitchen. Now he's eager to use it!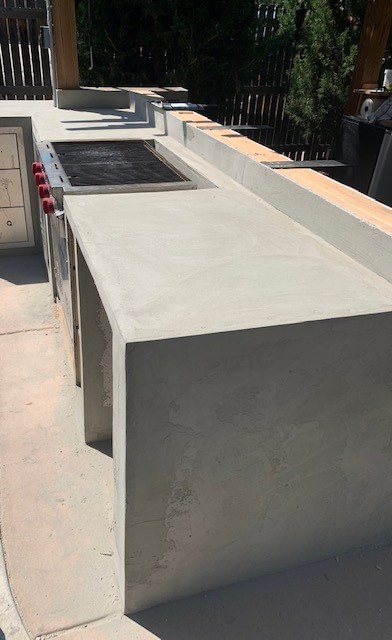 Karl started by framing out the kitchen unit with non-treated lumber. He covered the framing with cement board. After taping the boards, he applied a thin set of Apprêt texturé in Dolphin Gray. This was done over the whole bar area to seal it from the elements.
Then came the real fun. He added SpreadStone Textured Stone Coating in Cool Gray to the exterior surfaces.
"I just rolled on multiple coats and it looked great," says Karl, a resident of Aurora, Colorado. "The coating looks awesome, especially when the sun hits it."
To complete the kitchen, Karl rolled on Hi-Build Ultra Sealer to protect and preserve the finish. Then he added the crowning touch — a granite countertop.
"I'm just a regular DIY person," says Karl. "I was looking for the easiest way to get the look I wanted.
"The Daich Coatings products seemed more cost effective over other finishes. Their quality during installation was really good. I have high hopes that these finishes will stand up to our varied weather conditions, plus the ongoing use of this great new outdoor kitchen!"